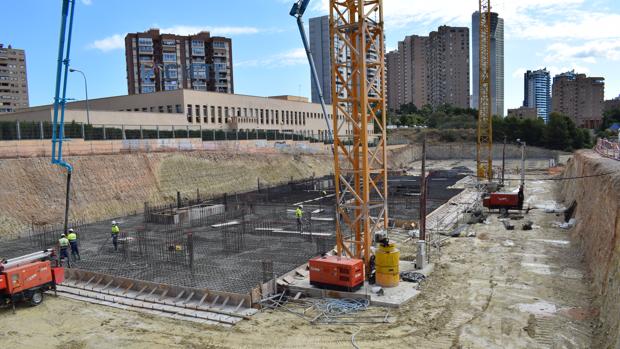 The first skyscraper after Covid-19 began to be erected in Benidorm!
In the city of Benidorm, skyscrapers are again rising from Alibuilding, an Aligrupo developer, who is building his Benidorm Beach residential complex in Playa de Poniente.
Alibuilding completed the slab concreting with more than 2500 cubic meters of concrete and 215 tons of steel for the foundation of the first post-coronavirus skyscraper in Benidorm.

Alibuilding CEO José Antonio Izkierdo claims that "the skyscrapers are returning to Benidorm" thanks to their construction of the Benidorm Beach LCD in Playa de Poniente, a 36-story building with a communal pool on the 26th floor.
The developer from Alicante completed the process of concreting a 1.80 m-high slab formed of more than 215 tons of steel, which required more than 2500 cubic meters of concrete, distributed over an area of ​​1400 m2, necessary for the foundation for the construction of a 36-story building.
A foundation slab is a platform that distributes all of the building's loads, said Izkierdo, which required 300 mixer trucks to build in one day.
The Benidorm Beach in Playa de Poniente will have: a wellness center, a gym located above the pool (26th floor 60 m2), the most modern elevators for a maximum of 13 people, which are larger than usual in terms of door width, cabin height and speed (designed to facilitate such operations as home improvement and minimizing waiting times), an outdoor recreation area, two outdoor pools, a children's playground and tennis courts. The highest LCD in Spain.
Antonio Izkierdo emphasized that "this is an exceptional element, an impressive engineering work that exceeds the size of the most common structures and which requires a complex process of coordination by many working groups, and what we have done is success, the work that the construction company ECISA completed"
Skyscrapers are returning to Benidorm!